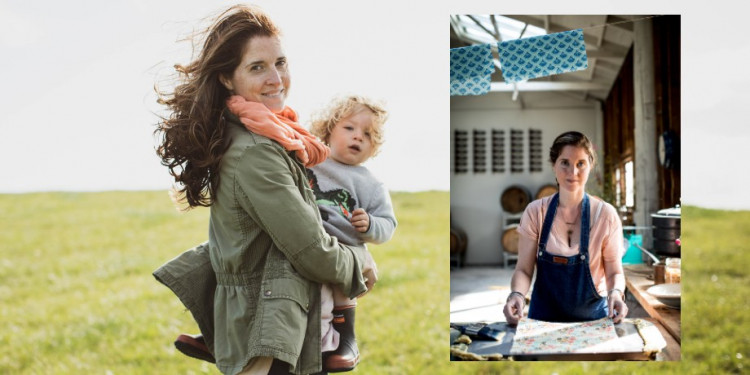 A burnt-out yoga teacher who decided to create a beeswax wrap business has described the roller-coaster journey of launching her company, cracking the U.S. market, and surviving Covid.
Stacia Jenson (above), was born in America but has lived in Hawkes Bay for 10 years.
She created LilyBee Wrap with her now ex-partner in 2016.
"We started selling the reusable food wraps at the farmers' market and then created a website in 2017.
"I'm an accidental entrepreneur. I was a burnt-out yoga teacher who came to New Zealand and wanted to do something to battle the plastic problem.
"We couldn't understand why so much plastic wrap covers food because plastic contains chemicals that leeches into food. When I was pregnant, I was even more cautious about the chemicals we are exposed to, and we decided to start LilyBee Wrap," she said.
LilyBee Wrap - a Westpac business customer - is an environmentally friendly alternative to plastic food wrap.
Beeswax wraps are made by mixing beeswax, coconut oil and damar gum into organic cotton fabrics that can then be wrapped around sandwiches, avocados or bowls. They're reusable and washable and have so far saved 48 million metres of would-be-used plastic from entering landfill.
LilyBee Wrap is predominantly a female-run business in both production and management.
"Our production team has been scaled back a lot since Covid though because business has slowed. We went from having 25 people in our production team, to now only having three," she said.
Another hurdle that Covid brought, was disruption to overseas orders from the U.S.
"We started selling to the U.S. market through Shopify a year after we launched and in our second year we started selling through Amazon," she said.
The wraps are listed as an Amazon's Choice product and have a 4.5 star rating based on customer reviews.
Logistics during Covid dampened LilyWrap's growth overseas though and a $100,000 order was cancelled after it had already been shipped to the U.S., which almost put them out of business.
"Our relationships with our other clients helped us get through that experience of losing the $100,000 sale and now most of our sales are coming from New Zealand.
"I'm not convinced that bigger is always better and in the eco-world you have to decide what your values are," she said.
LilyBee Wrap is a certified B Corp business, which means they meet the highest standards of verified social and environmental performance to balance profit and purpose.
"I didn't know how challenging it would be to become certified – even the wood pulp in the cardboard packaging was tested for the location of where the trees were grown for the paper," she said.
The process was strenuous, but Jenson is proud of what her company has achieved. However, part of her success has been from not lecturing people about it, she says.
"If you're a zero-waste person, that's great, but if you're not, don't feel bad," she said.
Her advice to others who would like to start a business is to know yourself first and to know the drivers of why you want to do it.
"Otherwise, you could come out very scathed on the other side. You better know who you are to whether the storms when things go bad. It's also always important to know your values, whether you're in the eco world or not," she said.
Related articles:
Business loan applications in only five minutes thanks to open banking tech