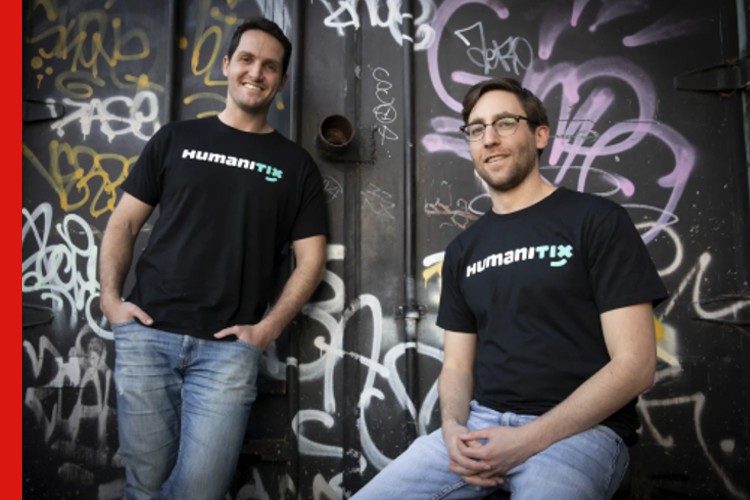 What if there was a social enterprise that ran just like a for-profit business, but instead of distributing those profits to shareholders, 100% went to fund education programmes?
That's exactly what Adam McCurdie and Josh Ross set out to do when creating Humanitix – the first ever event ticketing platform that distributes 100% of booking fee profits to charities.
Josh spoke to REDnews about building an organisation for social good and how Humanitix has grown into an award-winning platform, donating more than $1 million so far.
About Humanitix
Humanitix is a Westpac business customer and was named one of Westpac's Top 20 Businesses of Tomorrow in 2018. Since inception in 2016, they've already raised over $1 million in profits from New Zealand and Australian ticket sales alone and are about to go global.
"When we won the Business of Tomorrow Award, Westpac (Australia) flew us to America, introduced us to people in the industry, gave us mentoring and write ups in the media, so was a massive deal for us and made us a household brand you could trust," Josh said.
The two Sydneysiders founded the business in Adam's parent's garage and within two years they had won AUD$1 million for coming first place in the Google Impact Challenge 2018 and an AUD$1.2 million philanthropic grant from the Atlassian Foundation, owned by the Australian software company.
Booking fee profits are distributed among a range of charities and in New Zealand their local partners include education trust Manaiakalani as well as global literacy programme Room to Read.
"In New Zealand 75% of our profits go into education programmes for Māori and Pasifika kids and 25% goes into literacy and life skills programmes for girls in low-income countries in Southeast Asia and Sub-Saharan Africa.

"We also provide funding for devices, internet connection and digital literacy," Josh said.
How did it all start?
Adam was an engineer and Josh was a hedge fund analyst. But the friends wanted to dedicate their careers to making a difference in the lives of children, like the ones they'd seen while traveling in low-income countries.
They wanted to create a technology charity that could find innovative solutions to social problems at scale, rather than just generate shareholder-profits. In events, Humanitix is also revolutionising online accessibility in the industry for people with disabilities, while simultaneously redirecting the profits of booking fees into education programmes.
Ticket and event booking fees add up to billions of dollars of revenues globally and it was a market that Adam and Josh wanted to tap into to divert profits to charities.
"We thought the biggest driver of change in our world is technology and we wanted a tech channel that had no shareholders, that can fix social problems and redeploy profits," Josh said.
"Ticketing was interesting because there's no customer loyalty to ticketing platforms and the whole thing just took off from there.
"The model is so unique because we have a social business, but all our profit goes back to these projects," he said.
In order to give Humanitix their best effort, the duo decided that Adam would leave his job and work full-time on the tech platform, while sharing Josh's salary in the first year.
"We both moved back to our parents' houses and then when I also quit my job to go full-time on Humanitix we were volunteering for six months without income.
"When some philanthropists gave us some money, we lived on minimum wage before Westpac Australia and Google got behind us. We ended up getting some really big clients like Westfield and the United Nations, who started booking events through our platform," Josh said.
The team was slowly starting to grow, and they soon had nine engineers working out of Adam's parents' garage before being able to afford to rent office space.
In 2019 they expanded to New Zealand and after setting up a local New Zealand Charitable Trust run from Auckland, the organisation continued to thrive.
Humanitix NZ was hosting events such as Red Bull Farm Jam, Wanaka Beer Festival, Verb Festival Wellington and more.
Fast forward to 2022 and the founders are now splitting their time between Sydney and Denver to grow their business in North America.
Despite their success, Humanitix's board members all continue to be volunteers.
"Our staff are paid salaries, but they weren't in the beginning. We now have a team of 30 staff on paid salaries.
"We're a sustainable charity and we aim to be as profitable as possible, but that money goes into the education programmes and accessibility innovations," Josh said.
Proudest moments
The founders' proudest moment isn't cracking AUD$1 million in profitable donations or surviving the event industry during a global pandemic. It was building the first of its kind accessibility platform for the blind, in both their front facing system and administrative back end.
"We're the only events platform that people with vision impairments people can use with screen reader technologies. We teamed up with disability groups to make our platform web accessible, and it even has a module to educate event organisers about event accessibility.
"Images are explained while on the platform, blind people can manage their events and an event organizer can make events that are accessible too."
Adam and the company's Chief Technology Officer had attended a hackathon for solutions for people with disabilities early on in Humanitix's journey.
It was there that the pair spoke to a range of people with disabilities who said they didn't attend live events because of the inaccessibility of booking tickets, ascertaining accessibility information and the overall event process.
So, they went on to build a first-of-its-kind accessibility platform to help give information to attendees, which won them the hackathon.
When Adam and Josh started Humanitix they had a one- or two-year horizon, believing the platform would either work or flop.
They have definitely proved that it's worked.
Their advice for other budding entrepreneurs? "Just roll with an idea and see where it takes you."
Related articles: