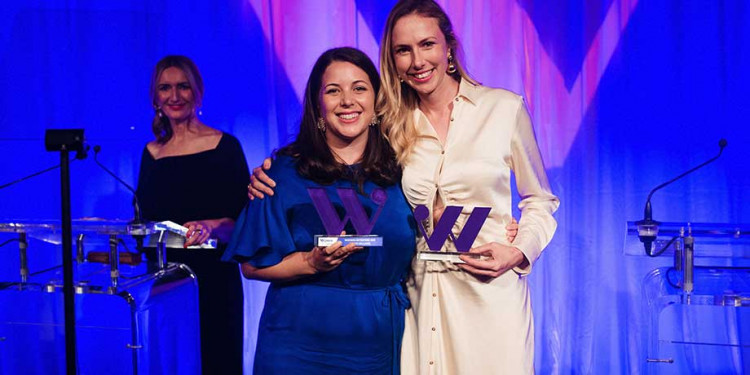 Sharesies co-founders Brooke Roberts and Sonya Williams are trying to break the taboo of women talking about money.
Since launching the online investment platform in 2017, Sharesies has grown to 250,000 users across New Zealand, with the aim of democratising investing.
Brooke and Sonya jointly won the 2020 Women of Influence Business Enterprise Award and are encouraging women to give investing a go.
"We do a lot of research every year to understand New Zealanders' attitudes to investing and money," Brooke said.
"Before launching Sharesies, 20% of people we surveyed said they recognised themselves as investors, but the majority were male, over 60 and from Auckland.
"Often women said they felt left out, weren't engaged or thought it just wasn't for them," she said.
Globally 30% of women are financially literate, compared to 35% of men, according to financial educators Closing The Gap.

"I think one of the reasons why it has been taboo to talk about money (for women) is because they haven't traditionally been included in those conversations," Sonya said.
"In our customer research we've heard about conversations between dads and sons that don't necessarily happen between dads and daughters.
"Our advice is for people to start talk about money and investments. Find people in your life to talk to about money," she said.
The co-founders say there is currently a strong gender balance across Sharesies' customers and 71% of their investors are under the age of 40.
To bridge the financial education gap, the platform also offers webinars which see around 2,000 people logging in to hear experts speak about investing.
"We want to create events that are accessible to everyone and we can reach more people by doing these online and will continue our educational content," Sonya said.
Despite the risks of new investors entering a volatile market, Brooke and Sonya say most of their customers have long term investment goals - to build wealth over time.
"It's not a get rich quick scheme."
"It's an investing platform to make money over time. Each ETF (Exchange Traded Fund) and fund show the level of risk involved and we also offer bonds that offer low risk options.
"We talk about having a diverse portfolio and that is possible on Sharesies, even if you're only investing $10 – you can diversify your investments.
"You can also find out your risk appetite on Sorted.org.nz," Sonya said.
Their aim is to build a financially empowered generation and they see that as a global mission.
"We are entering new markets and are launching into Australia next. We are excited about providing the access and motivation to invest," they say.
Winning the Women of Influence Award was a humbling experience for the co-founders, they say.
"We were super grateful to be recognised together as co-founders and were shocked because there were so many incredible women nominated who inspire us.
"It was a real celebration of not just us, but our whole team and everyone who helped us along the way," Sonya said.