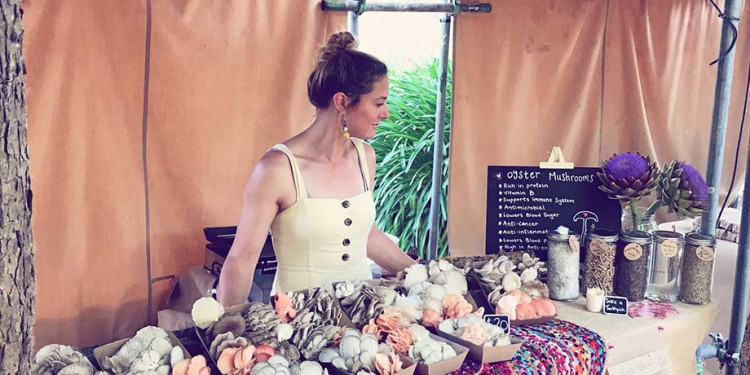 Less than 18 months after GoodVibesFungi launched, the grow-your-own mushroom business has gone from an unknown startup to an award-winning company.
Co-founders Zane Oosthuizen and Kimi Knott won the Excellence in Sustainability Award at the 2020 Hawkes Bay Chamber of Commerce Business Awards for their sustainable mushroom farming methods.
Half of their substrate (the base on which the mushrooms live) comes from pine pellets – a byproduct from New Zealand's forestry industry that would otherwise be waste
More than 10% of the substrate comes from rye grains that they use for spawn, as well as buckwheat hulls, which is a waste product from bakers who mill their own grain.
GoodVibesFungi, which is a Westpac business customer, was an idea that bloomed after the couple lived in Indonesia for a year.
The oyster mushrooms they ate regularly in Asia were not available in New Zealand when they moved to Hastings.
"When we moved to Hastings, we realised there weren't any oyster mushrooms and other specialty types of fungi for sale at the time," Zane said. Kimi, who comes from a farming family in Zimbabwe and studied permaculture and horticulture, convinced her partner Zane to start the business in September 2019.
"We were going to start a vegetable farm on Kimi's family's four-acre farm, but Kimi suggested we specialise in mushrooms because there seemed to be a gap in the market.
"Kimi showed me a video on how to monetize mushroom farming and I was sold on the idea.
"We rented a library book - a guide to mushroom cultivation - then watched a few more videos and created the farm inside a shipping container over three months," he said.
The couple started the business by selling the mushrooms at a local farmer's market.
"We had a small display bag which was growing live pink mushrooms that people were extremely interested in, which drove the idea of selling the mushroom growing kits," he said.
The couple decided to make 1000 pre-packaged mushroom farm kits to sell at a sustainability expo in Auckland to launch the product, but before they could launch the expo was cancelled due to the first COVID-19 lockdown.
Instead, they redirected their business online and marketed the product via social media.
"Kimi grew our Instagram following to 5,000 people within a short period of time and most of our customers still find us through social media," Zane said.
"Because it's a very photogenic product to photograph, it has been successful to market through social media and sell online with nationwide delivery," he said.
The couple is over the moon about GoodVibesFungi's commercial and environmental success and they're ambitious about the future.
"We want it to become a million-dollar product.
"We want to sell 28,000 units within the next few years and we have a short-term goal to sell 140 per week. We are currently selling 75 units per week on average.
"Our methods show that sustainable farming can also be profitable," he said.