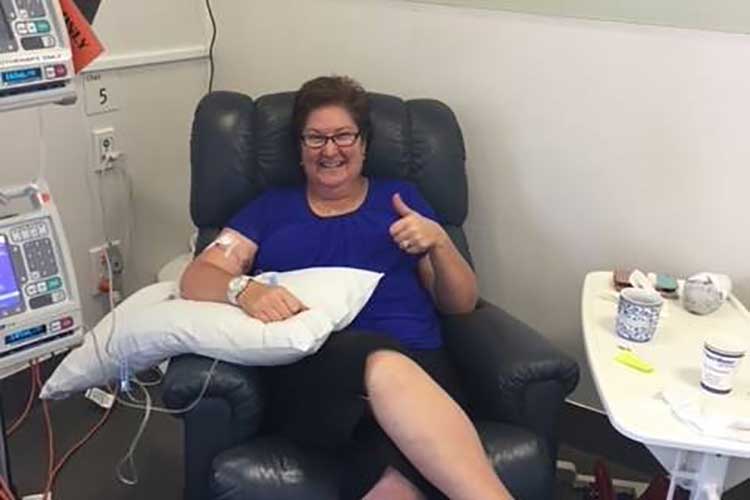 Battling cancer not only takes a toll on your physical body, but the added stress of potential financial strain adds another burden to an already devastating time.
How would cancer impact your financial stability while seeking treatment and recovery?
In April 2019 Tania Andersen was diagnosed with bowel cancer, she was told the tumor was large and in the advanced stages of the disease.
A Personal Manager at Westpac's Masterton branch, Tania shared her story of surviving the cancer and how she was able to manage her finances through an 18-month battle with the disease.
"I have always had a really good relationship with my branch manager and she was the second person I told, after my family," Tania said.
"My manager was as empathetic and as kind as I needed her to be and she asked me to tell her what I wanted to do and when I would need to stop working.
"My team also told me to take as long as I needed to seek treatment and my manager looked into exactly how much sick leave I had available, as well as discretionary leave, annual leave, emergency leave – she found everything that was available to me and confirmed it all with HR.
"I hadn't taken a sick day in years and therefore had 50 days accrued. Along with all the other leave options added on, I managed to have five months off in 2019 while being paid my full salary," she said.
During those five months of chemotherapy treatment, Tania was able to spend her time focusing on her health and survival, rather than how to support herself and family financially.
Once her leave allowance was used up, Tania used another vital resource – her life insurance Crisis Cover through Westpac, which paid her a lump sum payout.
"This experience reinforced the importance of insurance. I was paid out the lump sum that I agreed on when I joined the insurance cover in 2012.
"The money was paid straight into my account and I used this to replace my income.
"I paid myself the equivalent of my salary once a fortnight and the insurance claim process was extremely easy and stress-free.
"The insurer went straight to the District Health Board to confirm my patient number, diagnosis and treatment plan and then paid me very quickly.
"When you're lying sick in bed, you don't want to worry about money. It meant I wasn't stressed about the financial side while going through treatment," she said.
Near the end of 2019, Tania was starting to feel better and wanted to go back to work on a casual basis.
She reached out to Westpac and they were more than happy to have her come back, while allowing her to work the hours that suited her on a casual contract.
In March 2020, Tania's tumor had shrunk enough from chemotherapy to be removed with surgery.
She went to Christchurch for the operation, supported by her husband as well as The Cancer Society.
"The Cancer Society have been an amazing support system from the moment I was diagnosed, through my treatment and even now that I'm through the other side of recovery.
"They contacted me within two days of my diagnosis and not only offered a support group and information on the disease, but they also provided accommodation next to the hospital during six weeks of radiation treatments in Wellington and for my husband while I had surgery in Christchurch.
"They also offered me a Look Good Feel Better pamper day, which is an amazing initiative that helps put a smile on your face during a tough time, as well as counselling sessions and massage therapy," she said.
By May 2020 Tania was feeling ready to go back to work again on a flexible hours' basis and by June she wanted to go back to full-time employment at Westpac and took on a secondment in a managerial role.
Now fully recovered, she has reduced her workload to a four-day work week, which she says has been great for her recovery and work-life balance.
Her advice to others going a similar situation is to find out exactly what you are entitled to through your employer, what your insurance policy is and whether other options are available through the Government's Work and Income benefits. She highly recommends Crisis Cover and income protection insurance.
"Between Westpac and The Cancer Society's support, that 18-month journey was the best one could expect.
"Mental attitude is also so important to survival. I'm a very optimistic person and the belief you're going to get through it is so important," Tania said.
Tania now wants to give back to The Cancer Society and has been fundraising, with the help of her Westpac Masterton team, through the Wairarapa Relay For Life event.
She will participate in the event on March 20, which is a walk from 4pm to 8am the next morning.
"The event mimics a person's cancer journey - walking into the darkness and then going through to sunrise on the other side of recovery," she said.
Team Westpac Masterton have so far raised over $4,000.
To donate to The Cancer Society through the Relay For Life click here.