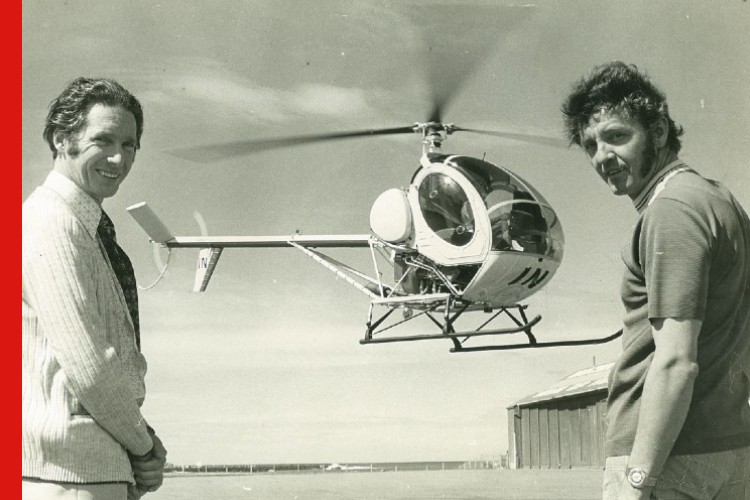 Wellington-based Life Flight's Westpac Rescue Helicopter is celebrating its 40th year of saving lives across the Lower North Island and Upper South Island.
The last four decades have seen thousands of missions completed and countless lives saved, but where did it all start?
REDnews looks back through the years of the life-saving partnership.
Where did it all start?
The idea for an airborne rescue service came about in 1968 when Peter Button witnessed one of New Zealand's biggest disasters – the sinking of the Wahine, which saw the deaths of over 50 people. As Peter watched what happened, he realised that a helicopter could have saved lives.
By 1975 Peter had turned his vision into a reality, creating a helicopter emergency service – a company called Capital Helicopters. He had learned to fly helicopters and with the help of Mark Dunajtschik, who made his own aircraft available for emergency use, the helicopter rescue work got underway.
The Life Flight Trust was launched in the early 1980s, with Peter's hard work, together with neurosurgeon Dr Russell Worth, and in 1981 the sponsorship of the rescue helicopter was realised.
The Trust's Public Relations Manager, Bill Day, led the sponsorship deal with the Commercial Bank of Australia – which would later become Westpac. And since then, Life Flight crews have flown thousands of missions and saved countless lives.
Former Westpac employee Bill Day is today the Chair of the Wellington Hospitals Foundation, but back in 1966 he began his journey in banking.
He was hired in a junior role at the Commercial Bank of Australia (CBA) at the age of 18 and in 1980 he was promoted to the Marketing Department as an Advertising, Promotions and Public Relations Manager.
In 1981, Bill met Peter Button.
"He (Peter) had done a few emergency rescues and had gained a good reputation with the public for the daring things he did. So, I decided to approach my boss, Don Weatherhead, about the bank sponsoring Peter and his helicopter.
"Don didn't think we had a chance of getting approval from the Head Office. But we went ahead, drafted a proposal, and then posted it to Melbourne. In those days everything was sent via post, except for the odd telex machine message," he said.
Much to Bill and Don's surprise, the proposal was approved.
What was unknown to the New Zealand team, was that CBA's Board in Melbourne were already in discussions with the Bank of New South Wales in regard to a merger. And the Bank of NSW happened to be sponsors of Australia's Surf Life Saving Rescue Helicopter Service.
On October 1, 1981, CBA and the Bank of NSW announced a merger and in 1982 a new bank emerged – Westpac Banking Corporation. Also in 1981, the CBA Bank Rescue Helicopter was launched to the public in Wellington and in 1982 it became the Westpac Rescue Helicopter.
In 1986 Westpac became the sponsor of the Auckland Rescue Helicopter and in 1992 they also took over the sponsorship of Canterbury's Rescue Helicopter.
Two days after receiving a Queen's Gallantry Medal in 1987, Peter Button sadly passed away in a helicopter accident. Bill continued as a trustee of the helicopter service and remained a trustee of the Life Flight Trust Wellington for 37 years.
"I am now a Life Flight Ambassador and Life Member. In 2015 I was made a Member of the New Zealand Order of Merit (MNZM) by Her Majesty the Queen for services to health and the community. It was a real honour and very exciting," Bill said.
"It has been a great journey, tinged with a little sadness but full of wonderful life saving stories and amazing staff who are hugely dedicated. I am hugely proud to have been the instigator of the bank's longest sponsorship activity which does so much for New Zealand," he said.
Saving lives
"The flight crews regularly fly in some of the most challenging conditions encountered anywhere on Earth – all from our base at Wellington International Airport," Life Flight Chief Executive Mark Johnson said.
"And Westpac has been at the forefront of that support as our Principal Partner for the past four decades," he said.
Of the countless lives saved, Andrew Sutherland is one survivor who has been rescued by the chopper more than once.
Forty years ago, seriously injured Andrew Sutherland was flown from the remote Wairarapa bush by Peter Button after his bulldozer somersaulted over a steep drop. He had broken his pelvis and right hip and dislocated his leg.
"The paramedics arrived but it was steep country at Pirinoa, near Lake Ferry, and they couldn't get me to the ambulance. Back then you needed a doctor to approve calling the helicopter, so we had to wait for the doctor to come out.
"Peter Button landed in a clearing. The paramedics got me on a stretcher and over a fence and to the helicopter. They gave me plasma and stabilised me and Peter flew me to Wellington."
Andrew made a good recovery all those decades ago, and last year he needed the helicopter's help once again.
While at an anniversary celebration at Ngawi, he slipped on a wet deck, fell backwards down steps and was knocked unconscious and concussed.
Paramedics called the Westpac Rescue Helicopter to transport him to Wellington Hospital.
"I never thought I'd need it again. I got married in the year after the accident at Pirinoa. We donate to Life Flight regularly – my wife organises that. With the New Zealand terrain, it's imperative you have help quickly. Life Flight is amazing, it's saved so many lives," he said.
David Langley is a retired family doctor who had his own life saved by the Westpac Rescue Helicopter two years ago. While sitting at his computer at home in Paraparaumu Beach he began experiencing chest pain.
"At first I thought it was simply heart burn and I laid down. But when I wasn't getting any better my wife called our local medical clinic, which advised us to call 111.
"The response was amazingly quick. Five minutes later a paramedic had arrived, she took an ECG and advised me I needed to get to Wellington Hospital. There wasn't an ambulance immediately available, so the Westpac Rescue Helicopter was called.
"As a medical professional, by then I was also aware I needed to get to hospital quickly. So, I was hugely relieved to hear the helicopter was on its way."
The crew landed a block away from David's house at a local boat club car park and he was flown to hospital where he received life-saving surgery – including having a stent inserted into a blocked artery.
David, who spent a week in hospital before making a full recovery, said he was impressed with the whole system.
"Life Flight and Wellington Free Ambulance provide an amazing service. Everyone living in the Wellington region needs to know this is a world-class operation.
"As a family we make regular monthly contributions to both organisations."
Baby Santiago Price-Iglesias is another survivor who was rescued by Life Flight. While on a family hike, Kylie and Fede and their two children had a life-threatening accident. Kylie's shoelaces became snagged on her other shoe leading her to trip and fall with baby Santiago in a front pack.
"As I fell, I did my best to roll onto my side. With all my might I tried to avoid landing on Santi, but I landed in a small ditch and his head hit the side of the ditch. It was the most horrific and vomit-inducing feeling," she said.
Santi had a small, fist-sized dent in his head and emergency assistance was needed. They were out of cell phone reception but luckily another hiker appeared with one bar of reception and managed to call 111.
Minutes later the Westpac Rescue Helicopter arrived and flew Kylie and Santiago to Wellington Hospital, where a CT scan showed a fracture in the baby's head that needed urgent care. The next morning Kylie and her baby were transferred to Auckland's Starship Hospital for neurosurgery on board Life Flight's Air Ambulance Plane. He underwent surgery and made a full recovery.
"Life Flight are incredible, saving lives with such empathy and humanity. Santiago is now 100 per cent okay after this very scary ordeal. But who knows what would have happened if it weren't for life Flight," Kylie said.
Long-serving members
Harry Stevenson is Life Flight's Head of Service Operations and has been with the trust for 16 years.
He has seen significant changes in technology over the years, from the new concept of GPS in 2005 to when night vision goggles were introduced, both of which matured the safety culture.
"Our current helicopters have done a great job and are still serving us well, but there's a whole new evolution of aircraft and it's exciting to think what the future holds," he said.
So, what's his most memorable mission so far?
"That's the hardest question. But one that really stands out for me, I wasn't on. Last year, an 11-year-old boy (Lincoln O'Hagan) was swept off Wainuiomata beach. Water rescues are the most urgent of all our work. We had a very quick response but when the crew got to him, in a 25-knot northerly, he was at the end of his endurance and going under. They only spotted him because of his red running shoes.
"The Wellington Free Ambulance flight paramedic was winched down and was able to support him and get him on board. They got the New Zealand search and Rescue Gold Award for that; I was so proud of them."
Westpac NZ's CEO Catherine McGrath says although Wellington is lucky to have rugged bush-clad hills, winding trails and natural beauty right on its doorstep, with that opportunity for adventure comes the potential for danger.
"Westpac is incredibly proud to have worked together with Life Flight since 1981. There have been dramatic rescues, technological developments and countless lives saved along the way, and today our partnership is stronger than ever."