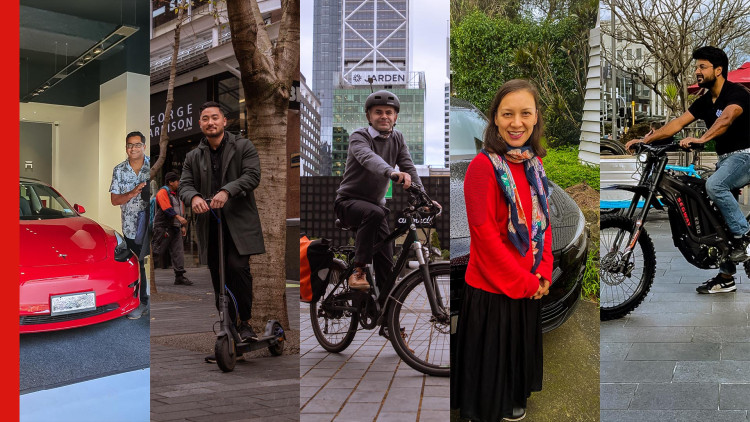 From e-scooters to battery-powered bikes to full size electric cars, electric vehicles now come in all shapes and sizes -but which one works best for you if you want to go electric?
REDnews spoke to a few New Zealanders about their preferred electric option.
Electric cars: No more visits to the gas station
EV owner Sahil Malhotra said buying his Tesla was the best choice he could have made. For him, it just made sense to purchase an EV in the same budget-range as a fuel-based car.
"We also looked at some hybrid vehicles, but we just didn't enjoy it much as it felt like a gimmick in the name of being environmentally friendly. It didn't feel right, whereas with the EV, it made sense," Sahil said.
"Both big and small towns [across New Zealand] have chargers now and it's become a lot easier to travel without any concerns, so I would 100% recommend it," Sahil said.
EV owner Emma Morris said the financial benefits of her Polestar 2 commenced from the day her family received their car.
"Once you buy it and start using it, it starts to pay itself back. Also, you never have to go to a petrol station again which is great! It definitely has financial benefits long term."
According to genless.govt.nz, EVs emit 60% less climate-changing emissions over their full life cycle.
E-bikes: Cost effective, health effective
E-bike owner Will Hine said he hardly noticed the power used by his electric bike, but it was clearly saving him money.
"When I use it, I don't notice any extra difference in my power bill at home. It has saved me probably 20 dollars per workday in parking and fuel. The number one benefit...is the mental health benefit. You get to work in a much better mood, and you look forward to your commute home."
Hine said his e-bike, an Ezee, had cost about $3800 five years ago. He estimated he had saved about $11,000 in parking and fuel over that period.
Not getting stuck in the ever-increasing Auckland rush hour traffic was a big bonus also.
Living around town? E-scooters might be your new best friend
Jay Kim lives on the Auckland city fringe and rides his e-scooter to work. He said the savings on time and money have been fantastic and his e-scooter has also helped him stick to his routine better.
"I got an e-scooter to reduce my travel times…and made it much easier and faster for me to get around…it also meant that I could sleep a little more!"
Kim said his Xiaomi Mi Home e-scooter cost him around $800 and saved him roughly $ 3000 in car costs per year.
He said he would definitely recommend an e-scooter to anyone living in and around the city – it saves them from the headache of finding a convenient parking spot.
E-mopeds: like an electric motorbike
E-mopeds look like a motor scooter but they're electric. Often speed-limited to 50kmph, they don't need a motorcycle licence. E-mopeds are a great option for people who live further out but want the convenience and affordability of electric and the traffic-evasion of a motor scooter.
Kenny Gill from Bikes and Beyond said e-mopeds went for about $5000 brand new but their electricity demands were low.
"Even if you're riding them every day and you're charging every day it will only add about $15 to $20 into your electricity bill every month - so that's pretty cheap I reckon," Kenny said.
Kenny said about 60% of the people buying from e-mopeds were in the 40s age bracket.
"Some people who own businesses and they need to deliver - they're using e-mopeds."
Kenny said Domino's Pizza in Auckland uses e-mopeds for deliveries and had bought about 60 mopeds from Bikes and Beyond.
"It helps people get to work, they don't get stuck in traffic unlike when they're driving a car and they save heaps on petrol," he said.
"So far, the reviews have been really positive. 90% of our staff who used to drive to work uses e-mopeds now."