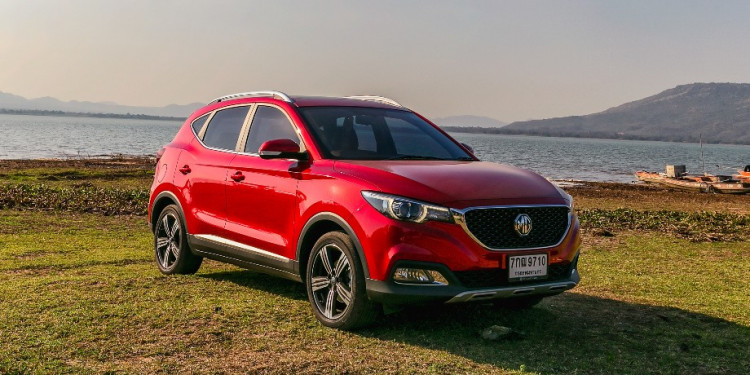 The cheapest new electric vehicle on the New Zealand market – the MG ZS – sold out across the country within weeks of the Government's new Clean Car Discount kicking in.
Battery and plug-in hybrid electric vehicles costing less than $80,000 are eligible for the rebate, which can take between $2,000 and $8,625 off the price of an electric vehicle (EV), depending on whether the car is a used import or a new vehicle.
So, does the rebate now make buying an EV worth the initial upfront cost?
It appears the answer is yes for many buyers – the MG's retail price of $49,000, was reduced by $7,600 by the subsidy and flew out of car dealerships nationwide.
"Our EV sales increased by 550% in July, and New Zealand has sold out of the MG ZS, but we have another fleet arriving in August," Winger Hamilton General Manager Michael Bryant said.
Overall, in the first 19 days of the rebate scheme more than 1300 electric or plug-in hybrid vehicles were registered, Stuff reported. In the year to date, the market was up 51.2% compared to the first seven months of 2020, Stuff reported.
Looking at both cost-effectiveness and environmental factors, REDnews investigated whether electric cars are now worth the cost.
Upfront Cost Vs Annual Cost Savings
Even with the government rebate, electric vehicles are more expensive to buy than petrol cars.
However, they are cheaper to run through recharging via electricity rather than paying for petrol or diesel.
"Someone travelling the NZ average of 12,500km every year would spend about $2,500 (on petrol). If they were driving an electric car, they'd pay about $500," according to EV-advocate non-profit Drive Electric.
"What it will cost you to run your EV depends on the cost of electricity (a ChargeNet site costs about 25c per minute plus 25c per kWh), the amount of driving you do and the kind of driving you do," their website says.
This EV calculator lets you analyse whether an electric vehicle would be cheaper for your household.
Small Petrol Car Vs Small EV With Low Mileage
If we compare a small petrol car with a small EV, using a mileage example lower than the national average, the cost of electric still doesn't quite add up purely in terms of cost.
For example, a small second-hand Fiat 500 with 18,000km on the clock costs around $13,000 to buy and has $766 of annual fuel and maintenance costs if it's driven 3,000km per year, according to the Ecotricity Calculator.
A small EV, such as a used imported 2018 Nissan Leaf with 14,130km on the clock costs around $41,880, but would be reduced by $3,450 from the Clean Car Discount – bringing the cost down to $38,430. Its annual running costs would be $300 if driven the same amount as the Fiat 500.
That is a $25,430 price difference between small cars and a $466 annual running cost savings with the EV when used for small distances - ie it would take about 50 years for your running costs to break even with the purchase price.
If you're driving long distances throughout the year, you will achieve a faster return on investment on an electric vehicle than if you're driving less than 12,000km annually.
Although running costs can come out looking cheaper, the main barrier for families is still the upfront cost of buying the car.
Small cars also have a lower emissions profile than large cars, so small petrol cars can be a good option for lowering emissions.
Kiwis make more than a billion car trips less than 2km ever year, according to Gen Less, so, pairing a small car and substituting short trips with walking can be a great option for a low-carbon lifestyle.
Why One Family Decided to Keep Their Petrol and Diesel Vehicles
Senior Manager in Westpac NZ's Sustainability team, Olaf Adam, researched whether an EV would be affordable for his family when their 1996 Toyota Caldina was on its last legs.
"My wife and I drive 20,000km per year between us. We had a 2009 Hyundai Santa Fe, which runs on diesel, and a '96 Toyota Caldina which runs on petrol.
"I looked at what these cars were costing us annually and the next five years of costs, such as maintenance, depreciation, petrol and insurances etc. Both cars combined were costing approximately $11,000 per year to own and run.
"Our maximum budget to replace one of these cars was $20,000, so we couldn't afford to buy a new EV. We could have bought a second-hand Nissan Leaf, but that wouldn't have been big enough for our family of four, with two kids. Our family goes skiing, surfing and camping quite regularly, so a small EV would not be large enough.
"So instead, we sold the Toyota Caldina and bought a second-hand Skoda Fabia for $17,000, which has a five-star safety rating and runs on petrol.
"This decision has cut our costs because the Skoda uses six litres of petrol per 100km and has become our main family car, whereas the Santa Fe uses 11.5 litres of diesel per 100km.
"We could not have bought the same level of car in electric form for $20,000, even with a government subsidy, but by switching the cars as we did, we've still cut our emissions by 30%, by not using the diesel Santa Fe as much.
"The Skoda Fabia is a smaller, newer car than the Toyota Caldina, so it has limited depreciation and less maintenance, so it saves us nearly $1,000 per year and it has a higher safety rating.
"If we had become a single-car family, we would have to factor in the cost of Ubers occasionally, which would overall be more expensive annually that what we pay now.
"However, the question is - how much do you drive per year? And are you using the right car for the right purpose. If you drive more than 50,000km per year, the EV becomes more cost-effective than if you only drive 20,000km per year or less.
"In another couple of years hopefully there will be a big family SUV EV that is cost-effective," he said.
Benefits Of a Hybrid
Aucklander Andrew Fox recently bought a Mitsubishi Outlander PHEV (plug-in hybrid EV) for his family of four for $42,000.
"I wanted a vehicle that was consuming less petrol, but the pure EV wouldn't have been an option because there are issues around range and the upfront cost, which are very expensive," he said.
"We live in the Devonport peninsula, so driving to the city and back is 26km – which is doable in the Outlander's EV mode. It has 43km of EV range before it kicks into petrol hybrid mode.
"This means I don't usually use petrol unless I'm traveling outside of Auckland. It's a low-cost vehicle to run and $40 of petrol will last me around three months. You do have to fill up at least 15 litres every three months though, so the petrol doesn't degrade in the tank.
"My advice to families is to think about their budget, what they want to use the vehicle for and the emissions profile on the vehicle you buy.
"Hybrids are a great option because you get fuel savings and emission savings, and they are more affordable than pure EVs. However, I wouldn't recommend a PHEV if you're doing regular long trips, I would instead recommend a hybrid that uses four litres of petrol per 100km.
Contributing to a Global Environmental Problem
Westpac Sustainability Lead, Kate van Praagh, says we should look at our overall lifestyle when it comes to reducing emissions.
"Most car trips are under two kilometers, and we know that short car trips from petrol or diesel-powered vehicles produce a higher rate of carbon emissions per kilometer, compared to longer trips as cold engines use more fuel.
"There are so many ways we can travel short distances without jumping into the car," she said.
"We could walk, cycle, scoot or take public transportation instead.
"Cars are still needed of course, but if you can't afford an EV, there are still a range of lower emission small petrol vehicles you can choose from.
"And if you're interested in reducing emissions in your daily life, the carbon footprint tracking app CoGo is a great way to monitor your carbon emissions and see which areas in your life are your main contributors," she said.
Westpac Senior Manager of Transformation, Dan Harris, says de-carbonising road transport needs to be one of the key focus areas over the coming years if NZ is to achieve a meaningful reduction in carbon emissions.
"This reduction will be achieved by a range of actions and the government EV subsidy is a welcome initiative that will help to inject greater numbers of EV's into the local market.
"The subsidy has already shown signs of stimulating new EV purchases and over time these vehicles will be moved into the used vehicle market.
"The subsidy, increased volumes of new and used vehicles along with other initiatives such as the ongoing improvements in the numbers and locations of EV chargers to reduce range concerns, will assist with EVs becoming a more realistic choice of vehicle for a greater number of New Zealanders in future," he said.
Conclusion
"The majority of our EV customers had worked out the numbers themselves before they came in to buy the vehicles," Winger Hamilton General Manager Michael Bryant said.
"They were mainly retired folks who knew the cost savings going forward and had the ability to pay up front without taking out finance on the retail price.
"When figuring out if an EV is right for you, we recommend working out the average mileage you travel per annum and calculate the cost of litres per 100km in fuel," he said.
Even with the government subsidy, EVs and hybrids are more expensive to buy than petrol cars. However, if you have the budget to pay that cost and your mileage is more than 50,000km per year, the annual cost savings going forward make the EVs worthwhile.
If you're a low-mileage driver, a petrol car with low emissions is more cost-effective and is also a better environmental option that a large diesel vehicle.
Conclusion: It all comes down to how many kilometers you drive per year and what you need the vehicle for.
In regard to measuring the carbon emissions on a specific vehicle, Car Jam offers this service online:
*Government rebates will be funded by new charges on high-emission imports, such as SUVs, as of January 2022 – costing buyers a maximum of $5,175 on a new vehicle.