Will Apple Pay work overseas?
Apple Pay works anywhere contactless payments are accepted. You can use it to pay wherever you see the contactless payment symbol.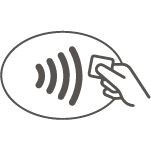 We recommend you take your debit or credit card as a backup when travelling overseas, and let us know before you go so we can protect your cards and transactions better while you're away.