Accept payments on the go.
Our contactless-enabled card reader and mobile app is small enough to fit in your pocket, and powerful enough to take payments, create and send quotes, invoices, and receipts on the spot.
Take payments on the go with Westpac Get Paid.
Get Paid® is an essential business tool that can help you get to where your customers are and keep your business moving whilst you're on the go.
Benefits.
Get paid on the spot - Accept payments wherever your customers are, with the contactless-enabled card reader.
Reduce admin time - Create personalised quotes, invoices and receipts for your customers.
Flexible use - Share your

in-app

product library with

your staff and track their activity.
How much does Get Paid cost?
Standard monthly fee is $30 + GST per card reader
EFTPOS transaction fees are free. There are Merchant Service Fees for Mastercard®, Visa and UnionPay transactions
No set-up fee.
1
Apply online or by phone
Apply for a merchant facility with Westpac, which you can do by calling 0800 888 066 or filling out our online registration form. Once your application has been processed and approved you'll receive an email confirming your application and receive a card reader via courier - in approximately 7 - 10 days.
Fill in the form
2
Download the app
You do this from the App store or Google Play store.
3
Sign in
Sign in with the email address and mobile that you nominated in your application.
4
Connect card reader
Connect your card reader and mobile with Bluetooth (there are instructions in the box and online for this).
5
Customise your app
Enter your business name, logo, bank account and GST number to brand the experience for your customers.
Instructions & user guide.
Once your new card reader has arrived in the mail and you have downloaded the app, you may have some questions about how to use Get Paid.

You'll find helpful information on:
Knowing your card reader
Signing in for the first time
Pairing your phone with your card reader
Taking your first payment
Payments and refunds
Offline payments
Creating business and personal profiles
Creating a product library
Creating quotes and invoices
Adding team members.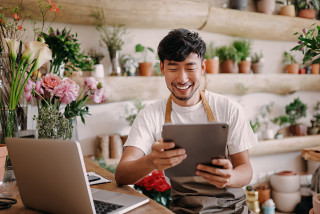 Merchant risk hub.
Get help with accepting card payments safely in your business. Our merchant risk hub gives you practical information and tips on meeting your compliance requirements, protecting your business against card fraud, managing payment disputes and keeping card payment data secure.
Go to hub
Things you should know.
Applications for Westpac Get Paid are subject to approval. Terms, conditions, fees and charges apply to Westpac products and services.
Mastercard® is a registered trade mark and the circles design is a trade mark of Mastercard International Incorporated.
App Store is a service mark of Apple Inc.
Google Play and the Google Play logo are trade marks of Google Inc.