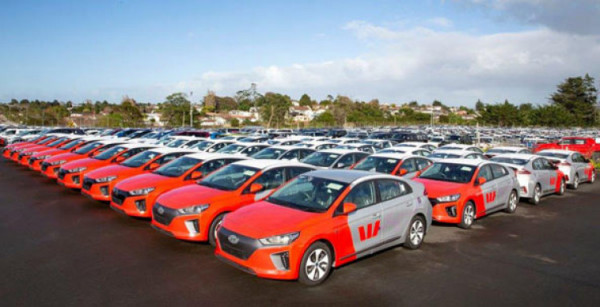 Westpac has welcomed the arrival of 65 new electric and plug-in hybrid cars as it gears up to meet a target of almost 100 electric cars by 2019.
"This is a game changer for us as we step up our efforts to help curb climate change. The inclusion of this many electric cars in our fleet will significantly reduce our own carbon emissions." said Karen Silk, Westpac NZ General Manager, Commercial Corporate and Institutional Banking.
Westpac first added three electric vehicles (EVs) in late 2016 and committed to convert 30% of its 301-car fleet by 2019. The cars will be sent to Westpac branches and offices ranging from Albany to Invercargill from this month.
"We began our journey almost two years ago with a small trial and by the end of June this year we'll have 65 electric cars on the road. The remaining 32 will be included in the fleet as leases expire," said Ms Silk.
"Before deciding on which types of cars to buy, we took a close look at where our mobile staff travelled to make sure either full electric or hybrid cars would support their needs," said Ms Silk.
After detailed analysis, the decision was made to acquire Hyundai Ioniqs which are available in either full electric or plug-in hybrid models. "At least 50 of our new cars will be fully electric and our ongoing commitment is to include as many full EVs as possible. However, for staff working further afield, it makes sense to include the plug-in hybrid vehicles as well," said Ms Silk.
"We think this is the right thing to do for the environment and to help the country meet its emissions targets. We also believe we have an important role to play in the future of electric cars in New Zealand. When our leases expire, these fleet cars will go into the used car market," said Ms Silk."That will help make electric cars more accessible and available to Kiwis."
In the next three years the corporate sector has committed to using more than 1,450 electric vehicles. These will eventually make their way into the used car market at a much lower purchase price than a new EV.
Accompanying the introduction of the cars to the fleet is the largest corporate charger installation in New Zealand. Over the last few weeks, work has started at Westpac's Britomart head office to upgrade the power supply of the building so that it can accommodate the 23 chargers that will be installed in the car park.
Westpac will be installing a total of 65 chargers throughout its New Zealand branches and offices to accompany the arrival of the electric cars and to supplement the public charging facilities already available.
We hope to make the chargers at the Tauranga branch and corporate office in Hamilton publically accessible and available free of charge outside of business hours (before 7am and after 6pm). "Outside of business hours, people will be able to drive up to the car park and charge their cars while they do some shopping or spend time in the area," said Ms Silk.
The vehicles will use renewable energy sources to power these cars. Westpac has decreased its own carbon emissions by 38% since 2012 and offsets the remainder of its emissions through the purchase of New Zealand carbon credits to be carbon neutral. Over the same period it has reduced lending to companies involved in fossil fuel extraction and production by 55%.