Private Bank.
Our award-winning team provide an exceptional, personalised service, enabling you to build on your success and leave a lasting legacy.
Exclusive, personalised banking services.
Our team of Financial Advisers work with you, to understand your financial goals and then take care of all your banking needs, so you can focus on what matters most to you.
We leverage our network of specialists in corporate business, property finance and financial markets to provide you with a bespoke, streamlined solution to meet your unique needs.
Clients we work with.
We offer discerning, time-poor executives and professionals bespoke lending and investment solutions, equity protection strategies and insurance, as well as returning expatriate advice.
If you've come into wealth from a substantial inheritance, lottery win, settlement or the sale of a large asset or business, we can provide strategic cash management advice and investment solutions, tailored specifically to meet your goals and new lifestyle.
We understand that managing significant family wealth requires a trusted team of experts that work together with your Family Office. By connecting with your advisors, we'll provide seamless solutions to transition and grow your wealth across generations.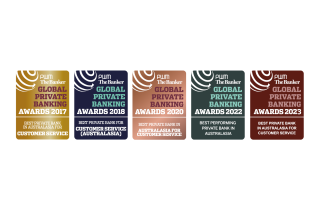 Awards.
We are a Private Bank built on strong partnerships with exceptional clients and this is the fifth year that Westpac New Zealand has won a top award at the Global Private Banking Awards by The Financial Times.
In 2017, 2018, 2020 and 2023 we won Best Private Bank in Australasia for Customer Service and in 2022 we won Best Performing Private Bank in Australasia.
Things you should know.
The material on this page is provided for information purposes only and is not a recommendation or opinion in relation to any of Westpac's products or services.
Terms, conditions, fees and charges apply to Westpac products and services. For more details, please refer to the relevant brochures, westpac.co.nz or your Financial Adviser.