Business Online updates.
We have implemented a range of enhancements to Business Online in response to customer feedback.
Resetting your password
We are introducing a facility to enable users to reset their own password if they forget their current password. This will avoid the need to contact an Administrator or the Westpac Business Online Helpdesk, and will be available 24 x 7.
For users of an organisation that has enabled this functionality, if a user enters a valid Business ID and Login ID, but an incorrect password, they will still see the usual error message, but a 'Forgot Password' link will now also be displayed on the log in screen.
When the user clicks on the 'Forgot Password' link they will be asked to enter answers to three Challenge Questions. If the answers are correct the user will be sent a new temporary password by email. The user can then log in to Business Online using the temporary password, which they will need to change in the normal manner. A user's temporary password will expire in 3 days, so it will need to changed before then.
Each user needs to have a valid email address loaded in their user profile by their Administrator before this function can be used. Because the temporary password will be sent to that address it should not be an email address that is shared by other people within the organisation, e.g. 'Info@JoBloggs.co.nz'.
Westpac will be rolling out the "forgotten password" facility through a staged process for groups of organisations at the same time. Once it is enabled all users of those organisations will need to select their Challenge Questions and provide the answers the next time they log in to Business Online. After that is done they will then be able to use the 'Forgot Password' facility, provided they have an email address loaded in their user profile. If an email address is not loaded they will receive a message advising an email address needs to be added and that the Administrator will need to reset their password.
Frequently asked questions
Can the Challenge Questions be reset?
The Challenge Questions will be reset whenever an Administrator resets the user's password. If a user wants to change their Challenge Questions or answers they will need to get their Administrator to reset their password first. The next time the user logs in they will be required to select the new Challenge Questions and enter their answers.
What if I can't remember the answers to the Challenge Questions?
Your Administrator can reset your password and that will also reset your Challenge Questions. You will need to select new Challenge Questions and enter your answers the next time you log in. Try to select Challenge Questions that are personal to you but you can easily remember your answers for.
What happens if I don't have an email address loaded on Business Online?
If you don't have an email address loaded on Business Online and you have set up your Challenge Questions, if you click on the 'Forgot Password' link you will be prompted to answer your questions. However, you will then get a message advising a password cannot be sent as you do not have an email address. You will need to get your Administrator to reset your password, and that would be a good time for them to enter your email address on to Business Online.
Is anyone else able to use the password that is sent by email?
No. The password is specific to the user that has requested it. The email does not contain any information to identify who the password is for so if the wrong email address has been set up by your Administrator the person that receives the email will not be able to use it.
Changing your start up screen
You can change your Start up screen from the default "Account Balances" page to any of the following Business Online pages and save this for future logins.
Customer Dashboard
Pending Payments / Pending Automatic Payments
Processed Payments / Processed Automatic Payments
To change the Start Up screen
1. Go to the Preferences Tab on the top-right side of the Main Menu.
2. Click on the drop-down menu option 'Start up Screen'.

3. Click on one of the options in the drop-down box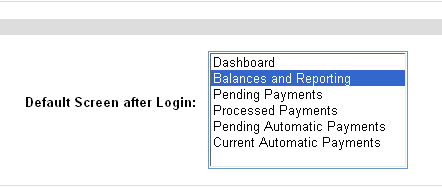 International
With International Payments in Business Online, you can:
Send funds to payees overseas at the current rate of exchange.
Send money overseas in a

selection of currencies

and know the exact NZD value of your payments.
Make an International Payment 24 hours a day, 5 ½ days a week (between the hours of 8am Monday until 11am Saturday).
Make International Payments from your Foreign Currency Accounts as well as your New Zealand Dollar accounts.
Save beneficiary's details if you're making regular payments to the same person and arrange for a confirmation email to be sent to them after a payment.
Settle your International Payment directly from your Trade Finance facility.
How will customers apply for International Payments?
Existing Business Online customers will have to complete the

Business Online – Form to Register for International Payments

to enable the International Payment capability and register the mobile phone numbers of their Administrators.
Mobile phone numbers are used for verification purposes and are mandatory for sending International Payments.
All new Business Online customers signing up after the release of International Payments in Business Online from 1 July 2013 will automatically have the capability to send International Payments.
International Transfers function:
With International Transfers, you can transfer funds between your Foreign Currency Accounts and New Zealand Dollar accounts.