Accept payments in-store.
Our flexible payment options let you accept contactless payments, take payments over the phone, add tipping or surcharges, and more.
Benefits.
Fast payments to your account
Improve cash flow to your business, with funds credited to your account the next working day.
Customer convenience and security
Whether they swipe, insert or use contactless, payment is simple and secure.
Go contactless
For new customers our fee for contactless debit transactions is 0.69% of the transaction value1, providing your transactions settle to a Westpac business account.
Be more flexible
Keep up with your customers' payment technologies, such as Westpac Pay, Apple Pay2 or other digital wallets.
Deals for selected industry associations
If you're a member of one of our selected industry associations, you could save money on your credit card processing.
Find out more
Going contactless.
With contactless payments being so quick and easy to use, it's no surprise use in New Zealand is growing. We've made it easier for you to accept payments by keeping our contactless fees low.
Switching to contactless not only gives your customers more choice in how they pay, but also offers some great benefits to your business:
✔ Great rate - For new customers our contactless debit rate for domestic contactless debit card transactions is 0.69%1.
✔ Speed - Focus on giving your customers a great experience, thanks to shorter queues and speedier transactions.
✔ Flexibility - Future proof your business and give customers more choice over how they pay, whether that's with their card, or other payment options such as Apple Pay and Google Pay on their mobile or wearable device. If customers don't want to make a contactless payment, they can still swipe or insert their card and enter their PIN instead.
✔ Future proof your business - Make the most of new payment options like Apple Pay and Google Pay.
✔ Security - Accepting contactless payments provides protection for you and your customers as card details aren't shared or stored on our systems.
Choosing your set-up.
There are two elements to accepting cards with an EFTPOS terminal: the physical EFTPOS terminal, and the merchant facility.
We support all major terminal providers in New Zealand. Talk to us to set up your merchant facility so you can take payments the way you want.
Here are some of the popular terminal configuration options:
Accept EFTPOS and debit cards only
EFTPOS card transactions are free
Debit card transactions are free if the card is swiped or inserted and used with a PIN (contactless payments not available)
You don't accept credit cards.
Accept EFTPOS, debit and credit cards
You accept all types of cards - EFTPOS, debit and credit cards
Transactions where the customer has selected cheque or savings (as opposed to credit) will be free
Within this option, you can choose to have contactless payments turned on, or turned off
Credit card and contactless debit transactions will be charged a merchant service fee.
Electronic Offline Vouchers (EOV)
An EOV allows your business to continue processing transactions, even when connectivity to the payment network is lost. Transactions are processed through your EFTPOS terminal as usual, then, when connectivity returns, uploaded to the network for approval. An EOV session ends when the network returns, or after 36 hours - whichever comes first.
You can also choose to add these functions:
Accept additional card types, such as American Express, UnionPay, Q Card and Prezzy Cards

Add surcharges - this is an additional charge your customer pays to cover reasonable costs of the card transaction

Tipping - this allows you to accept customer tips on a card payment, and is often used in the hospitality industry

Pre-authorisation - this allows your terminal to complete a transaction at a later time. It's often used by businesses such as car rentals, hotels, petrol stations, and in the hospitality industry for bar tabs.
Talk to us about the products and fees that best suit your business.
Ready to get started? It's as easy as 1, 2, 3.
1. Tell us how you do business
Fill out the enquiry form telling us about your business and your payment acceptance needs, or if you prefer, call 0800 888 066 to talk to our team.
2. We'll call you back to chat
You can talk to us about how you'd like to accept payments, and we'll put together a solution just for you.
3. Get set-up and started
Once you're ready to go ahead, we'll make sure you've got everything you need to start accepting payments.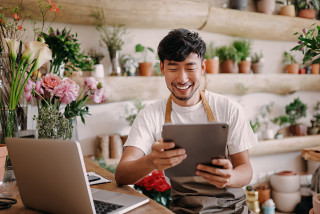 Merchant risk hub.
Get help with accepting card payments safely in your business. Our merchant risk hub gives you practical information and tips on meeting your compliance requirements, protecting your business against card fraud, managing payment disputes and keeping card payment data secure.
Go to hub
Things you should know.
1 When you settle card transactions into a Westpac business account. Terms and Conditions, eligibility and credit criteria apply. Only for transactions on domestic cards, and customers on a blended pricing plan.
2 Apple Pay is available to all eligible Westpac debit and credit Mastercard® customers. Excludes Mastercard BusinessCard, Westpac Business Prepaid Mastercard and Global Currency cards. Customers also need a compatible Apple Device.
The information on this page is a guide only. Participation in a Westpac Merchant Credit Card Facility Agreement is subject to Westpac's approval. Westpac's current lending criteria apply. Terms, fees and charges apply to Westpac products and services.
Mastercard is a registered trade mark and the circles design is a trade mark of Mastercard International Incorporated.
Google Pay is a trade mark of Google LLC. Apple Pay is a trade mark of Apple Inc., registered in the U.S. and other countries.